James and the Giant Peach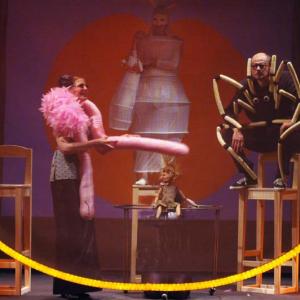 In the centre of the giant peach there is a hidden room full of surprises...
The British writer Roald Dahl (1916 – 1990) was famous not only for his black-humour short stories for adults but mainly for his work for children. Among his most famous books are Charlie and the Chocolate Factory, Big Friendly Giant, The Witches or James and the Giant Peach.
The main hero of the story is a little James whose parents are eaten by a rhinoceros out of blue. James is forced to live with his two horrible aunts, Spiker and Sponge. They bully him and so he wants to escape. He is helped by an old wizard and his magical peach. The fruit grows into enormous proportions in the garden. James gets into the peach and it starts moving slowly but steadily. James is not alone on his journey to his lost childhood, friends and a new home. Tiny insect that had lived in the peach grew a lot as well and so James travels on the ground, across the sea and high in the sky accompanied by a giant earthworm, king-sized flashing firefly and oversized spider...
Photos in print quality for download:
foto-5a83f5968ebbb.jpg
(1.67 MB)